'Everyone should be prepared for worst-case scenario', says the head of oil consultancy group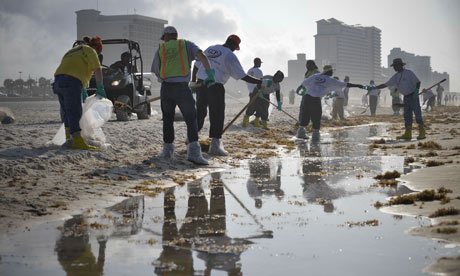 One of the world's leading authorities on oil well management has warned it could take until Christmas to cap the Gulf of Mexico spill that is devastating the southern coast of America – and
BP
's reputation.
Nansen Saleri, a Gulf drilling expert, said he hoped BP would meet its August timetable for capping the blown-out well, but made it clear success was not certain.
"I know it is a frightening assessment but everyone should be prepared for a worst-case scenario, and that could mean a Christmas timeframe," said Saleri, chief executive of the consultancy group Quantum Reservoir Impact. "The probable outcome is much better but the technological challenges … are enormous."
The futures of BP and of wildlife around the Gulf of Mexico are largely dependent on the rapid success of two "relief" wells that are being drilled in an attempt to halt anywhere between 20,000 and 40,000 barrels of oil a day that is flowing out of the stricken Macondo subsea hole.
Saleri, who dealt personally with four blowouts during a career with Saudi Aramco and Chevron, said the BP fire and spill was the worst he had seen. He believes it may cause more damage than the Ixtoc I blowout 30 years ago, which is regarded as the most damaging of its kind.